Oppose the war industry: Tell the Wellington City Council to never host the Weapons Expo again
In solidarity with the protests in Tāmaki Makaurau, Auckland, against the Weapons Expo and the Navy's celebration of 75 years of war we're going to keep up the pressure with a demonstration here in te Whanganui-a-Tara, Wellington.
What's happening in Auckland?
This year the Weapons Expo is being held in Auckland to coincide with the Navy's celebrations of 75 years of war, with warships from around the world coming to Auckland harbour.
For the first time in 32 years a US warship is coming to Aotearoa. The naval training exercises in the Hauraki gulf clearly display the preparation of New Zealand navy for more wars, and the US warship is just another step along the path of closer military ties with the USA and USA-led wars.
These two events clearly link the business end of the war industry with the killing people side of it, showing the deadly power of war as a business opportunity.
Auckland Peace Action has organised a "Week of Peace" to counter the money and blood fuelled Weapons Expo. This includes a blockade of the weapons expo and a peace flotilla.Some members of Peace Action Wellington are going to Auckland but others are staying to organise actions down here.
For more information about Auckland Peace Action go to www.aucklandpeaceaction.wordpress.com
Continuing the campaign against arms company Mas Zengrange in Lower Hutt
November 22nd: We'll be holding a stall near Lower Hutt Pak'n'Save to highlight the presence of an arms company in the neighbourhood and then moving to MAS Zengrange on Downer Street to let them know they're not welcome.
More details to come on the event page here. Check out the video of our last Mas Zengrange action if you haven't seen it already.
The Peace Foundation hosts Dr Helen Caldicott. 'An End to Armed Conflict: New Zealand's Unique Challenge'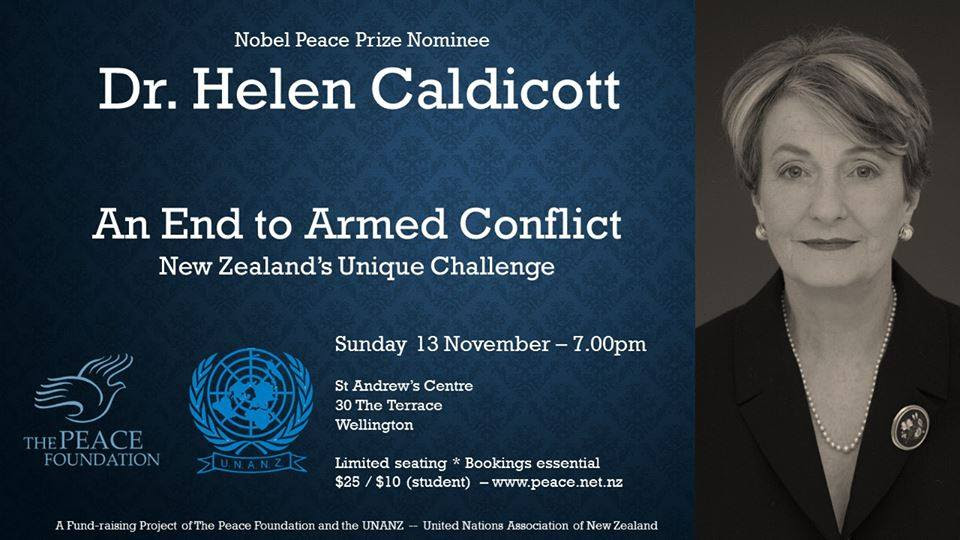 Click here for more details.
Did you miss the FIFTH EYE the first time around?
Don't worry! It's back for a limited run at the Paramount Cinema, Wellington from Thursday 10th November. Head to the Paramount website for times and tickets. This film got 5* from Peace Action Wellington viewers at the film festival and is a highly recommended doco about the activist mission to disarm the Waihopai spy base and an expose of NZ's involvement in global war and surveillance.
Aotearoa International Festival of Arts and Resistance
'A new biennial event with a kaupapa of counteracting racism, plutocracy and capitalism by means of conscious music, poetry, art, speech, film/video and protest action is coming to the capital city.
' Our Wellington actions protesting the Weapons Expo will be integrated into the event – check out more
here
.